Advancing
(Sustainability Report)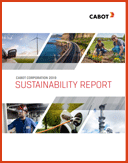 We believe we are successful only when our technical capabilities are interwoven with an intense commitment to sustainable business practices that ensure the well-being of our employees, customers and the communities in which we operate.
....click to download

Environmental Performance
Our Drive to Zero initiative is a mind-set that permeates all that we do and extends to the management of our environmental programs. It starts with a belief that zero is possible – zero injuries, zero spills and zero violations. This belief and commitment is integrated into our operating culture and serves as a central theme in our safety, health and environment (SH&E) policy.
Read more